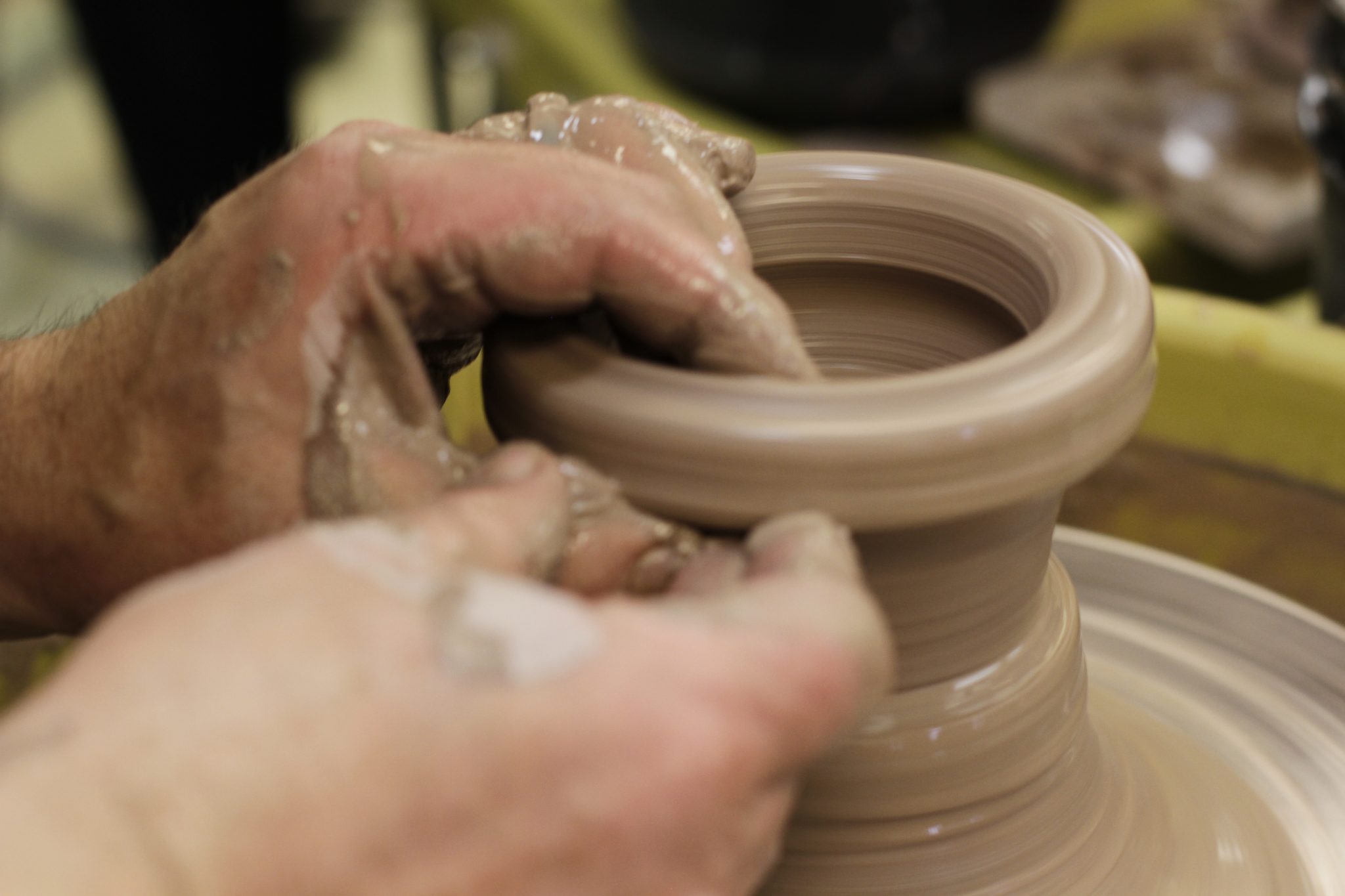 LATE SPRING 2022 SESSION TIMES & INSTRUCTORS:
Location: Cobble Hill
No classes: May 28-May 30
Firing Fees:  firing fees will be additional at $.06 per cubic inch. You will be able to pay for firing fees at our kiosk in the studio.
Beginner Only: for students who have never taken pottery before or have had only 1 semester and would like to remain with students completely new to pottery.
Beginner/Intermediate: mixed level class (like we have always had). There may be complete beginners and also return potters looking to focus on foundational skills and forms.
Intermediate Only: for students who have taken 2 or more semesters. You do not need to have mastery of centering and basic forms, but must have a foundational understanding and want to learn about forms and skills past simple bowls, plates, and cups.
Advanced Only: for students who have near or full mastery of basic skills like centering and have had exposure to, or already made, more complex forms like jars, teapots, or thrown and altered pieces.
Capacity: 14 Seats (8 Seats for Beginner-Only Classes)
Registration will Open on April 14 at 8 PM – Click on the Links Below to Register
Monday: May 2 – June 27, 2022
Tuesday: May 3 – June 21, 2022
Wednesday: May 4 – June 22, 2022
Thursday: May 5 – June 23, 2022
Friday: May 6 – June 24, 2022
Saturday: May 7 – June 25, 2022
Sunday: May 8 – June 26, 2022
Vaccination Requirement
At this time, as per NYC Small Business Services, The Painted Pot, as a small private business, has the right to require customers, ages 5 years and older,  to show proof of vaccination.  Masks are requested. 
Open Studio Hours 
Members: Monday through Sunday, 24/7/365 Access to studio.

Students: Monday & Tuesday 12:30pm-3:30pm, Wednesday to Friday 10:00am-3:30pm, Saturday & Sunday 12:30pm-6:30pm

Students and Members must book and reserve time in order to use the studio.   

Students must be accountable and note the time, start and end dates of their class.  Please do not call the studio or email for this information. 
Scheduling Open Studio Time
In addition to your class, you also have access to the studio when classes are not happening. Due to COVID-19 restrictions, you must reserve open studio time in advance using our scheduling system.

The system will only show you times that are available. Each reservation is 1.5 hours long, but if you want to stay longer, you can book sessions back to back.

Reservations cannot be made more than 7 days in advance and less than 1 hour in advance.

You can book up to 10 reservations in a week.

If you only need to come to the studio to check on work (pick up glazed work, uncover greenware, etc.) please use the "checking-in" link to book a 15 minute reservation.

All of these links can be found on our website: https://www.clayhousebrooklyn.com/members-only-and-student-scheduling/
Missing a Reservation
If you cannot attend your reservation, please cancel your appointment.

If you don't show for your appointment, you are keeping someone else from using that time slot.
Staying Past Reservation Time
You should be out the front door (on the street) at your end time. Not cleaning, not dealing with pottery/firing fees, not collecting your personal items. This is a crowding/safety issue.

You will receive ONE warning for staying past your reservation end time.

A second infraction will result in the termination of your studio time privileges.

This is not something we want to do, but we have a schedule for a reason. Staying late is not only a COVID issue, it also causes problems for the person scheduled after you and creates more work for our staff.

We have added clocks to both walls in the back and encourage you to set a timer on your phone to be sure you clean up and leave on time.

We no longer provide outside firings or walk in services for the ClayHouse Brooklyn studio.
Additional Fees
Firing fees will be additional at $.06 per cubic inch.  Note: You will be able to pay for firing fees at our kiosk in the studio. 
Students will need to provide their own tools or purchase a tool kit for $18 at our studio.
Cancellation Policy
To request a cancellation of a class and refund, please email: pottery@clayhousebrooklyn.com. Do not call to request a refund. Refunds must be requested more than 7 days prior to class start date for a full refund minus $25 processing fee. If you cancel your class within 7 days of class start date, a refund of 50% will be available for credit only. When cancelling your class within 7 days of class start, you will have 6 months to redeem your credit which will be in the form of a virtual credit to be given when requested to register. No REFUNDS once the class begins, nor can you transfer to another class or to another semester. We cannot be flexible on our policy and there will be no exceptions.
Make-Up Classes We no longer offer make-up classes due to COVID-19 restrictions and the fact that each class has full enrollment. There will be no exceptions. You are responsible for showing up for class each week.